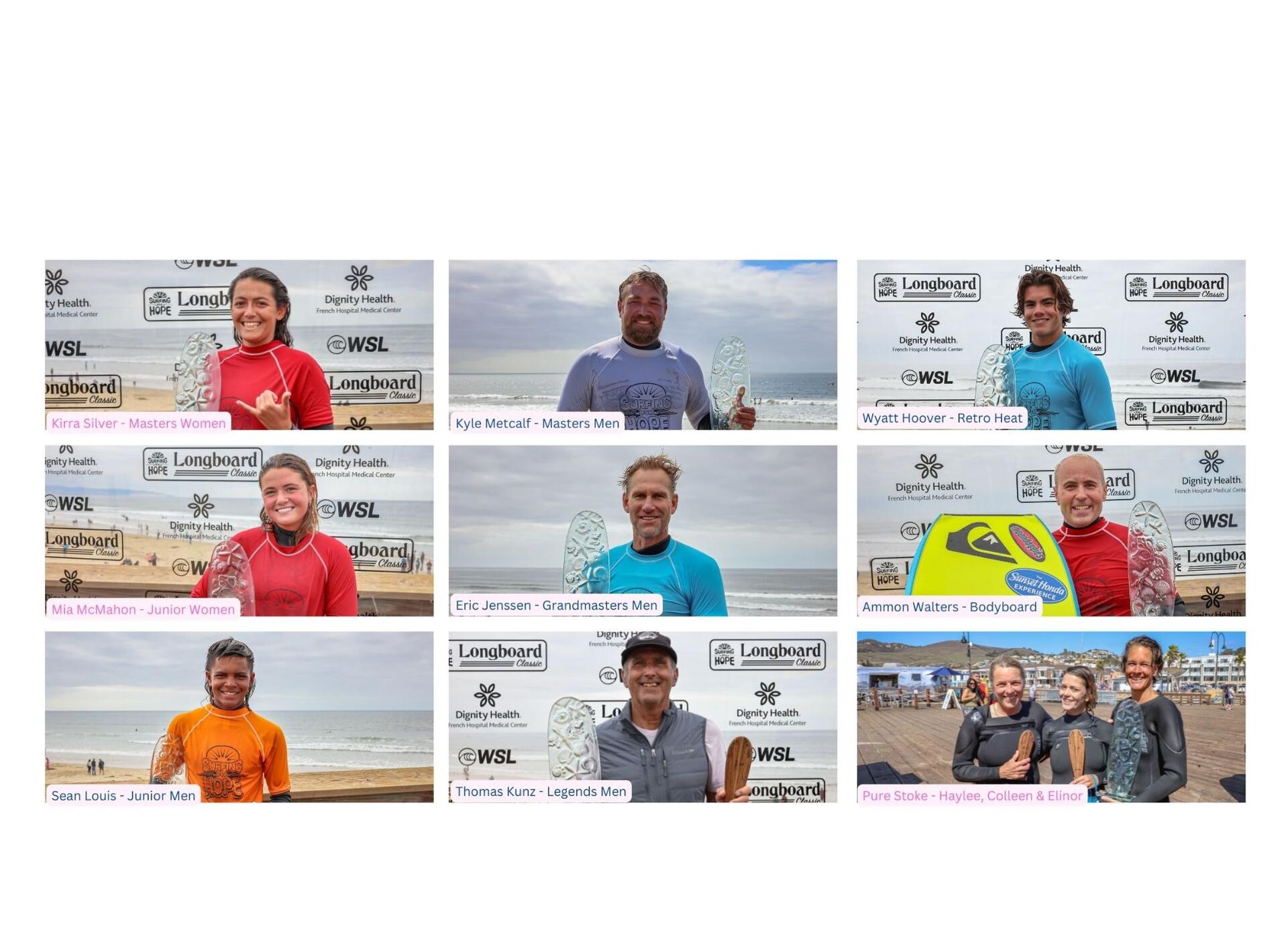 The City of Pismo Beach is welcoming us back for the Surfing For Hope 11th annual benefit event.
"Through this annual event, our organizers and participants strive to show how the ocean and the sport of surfing are therapeutic and healing," said Bob Voglin, a well-known local surfer and cancer survivor.  "It also gives the surfing community an opportunity to give back to people in need by sharing what we love."
All proceeds from Surfing for Hope, with French Hospital serving as the presenting sponsor, will benefit the Surfing for Hope Foundation in San Luis Obispo. In addition to Bob Voglin, the Surfing for Hope Foundation Board includes Karen Allen, Tom Spillane, and Nancy Voglin. Since 2012, the foundation has raised more than $750,000 to support and assist cancer patients and their families; 2022 beneficiaries included the Pure Stoke Youth Program and several local cancer resources for those currently battling cancer.
This Year's Line Up 
Online Auction (Live Now) Concert tickets, boards, art and vacations are all available to support our mission to help inspire people challenged by cancer through the positive energy of surfing. This auction is online only, and you don't need to be present to win. 
The Longboard Surf Contest (Sunday, October 2nd)  As always it is open to all ages and includes a variety of divisions, including our highly competitive costumed "Pure Stoke" team heat.
The Cancer Resource Health Fair  (Saturday, Oct. 1, 10:00 - 2:00pm during the WSL Pro Longboard event) features businesses and local groups providing support, education, and help to individuals and their families currently going through the cancer experience.  
Dinner and Auction (Friday, Sep. 30, 5:00 - 10:00pm at SLO Brew Rock in San Luis Obispo) Food, drinks silent auction and live music by Dante Marsh and the Vibe Setters.
The 2022 Memorial Paddle Out  (Friday, September 17th, starting at 4:00pm) in Avila Beach.