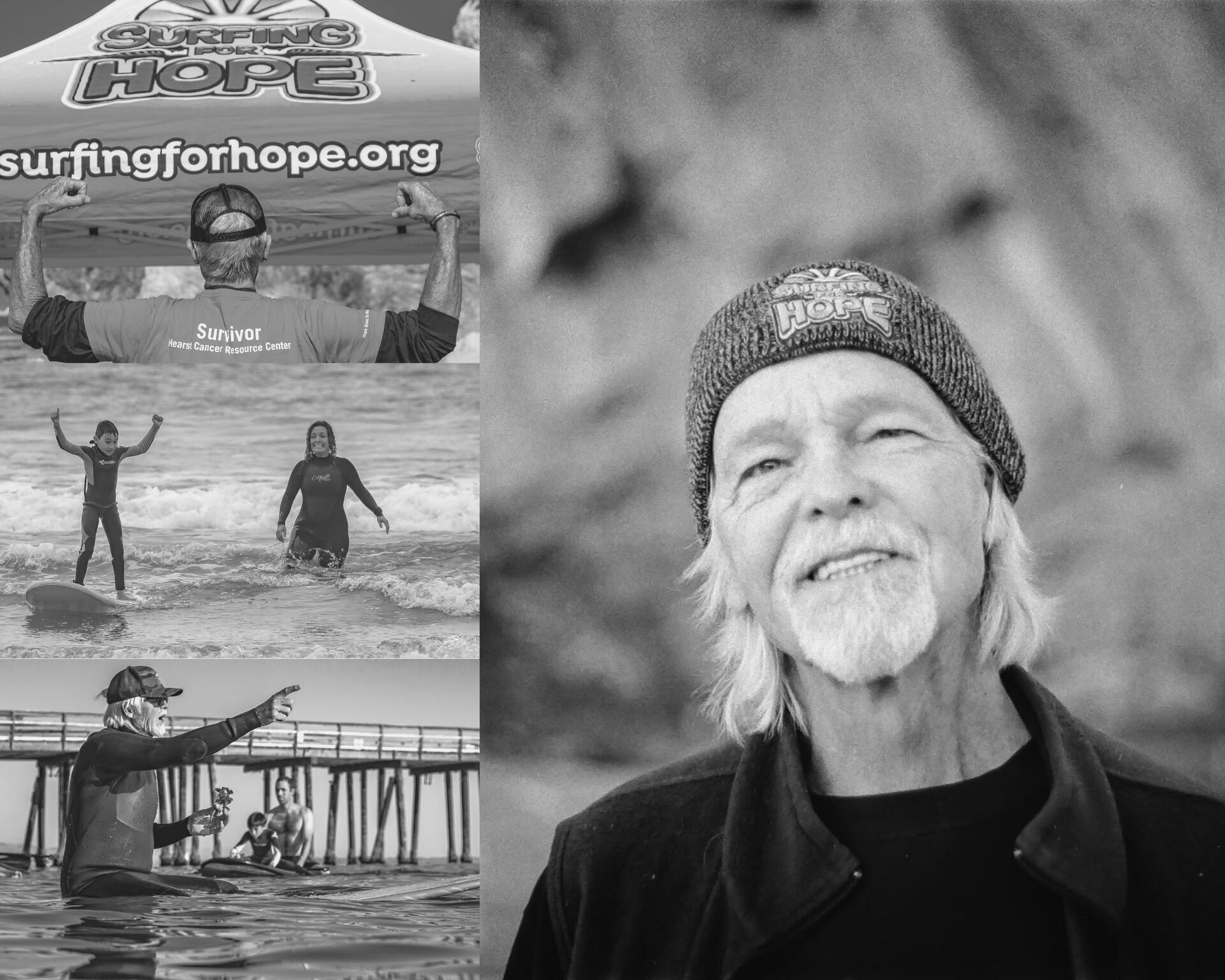 ESTABLISHED IN 2012 Our non-profit Tax ID Number is: 36-4762809.
Surfing for Hope Foundation is a local 501c3 non-profit organization that was created to help ease the difficulty of cancer through the healing powers of surfing and the ocean life. Our original event, the Surfing for Hope Longboard Surf Contest and Benefit Auction in 2012, was inspired by cancer survivor 'Helmet' Bob Voglin as charity event to help return the support he received during his own struggle.  
Partnering with his oncologist, Tom Spillane MD, Bob chose the Hearst Cancer Resource Center as the inaugural year beneficiary.  This resource center at French Hospital is an invaluable link to the community organizations that aid current cancer patients on the central coast. Over the years, SFH has raised over $200,000 for the resource center, but with the growing success of this event, and the incredible support of others, the SFH Foundation has been able to expand and donate to additional programs to help support those affected by cancer.
Although the first 3 years our annual surf contest and event was run by the generous people at French Hospital, for the last 8 years SFH Foundation has run the event.   The foundation's mission continues to be to support and raise awareness for all local cancer resource groups, including our own Pure Stoke Youth Program. The free surf clinics are for kids that have a loved one or themselves battle cancer.  This support group on the water/beach completed the original vision of founder Bob Voglin and continues to grow and touch so many lives.
Surfing for Hope Foundation Board Members
Bob & Nancy Voglin (Founders & Directors)
Tom Spillane & Karen Allen (Directors)
Andy McKay (Associate Director)
We would like to give our sincere thanks to all our supporters whom make Surfing for Hope possible.